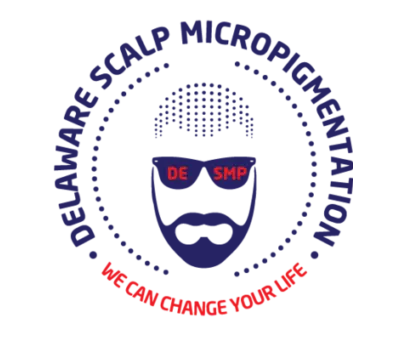 DELAWARE SCALP MICROPIGMENTATION
Give your self-esteem a boost
We've partnered with Gerow Hair Ink (NYC) and Scalp Allure (DCMD) to provide you premium-quality scalp micropigmentation. We use the latest technology and high-quality to guarantee the best results for a natural appearance of thicker hair. No matter the cause of your hair loss, our scalp micropigmentation treatment for men and women can produce the illusion of a full head of hair. Head down to our clinic today!
What is Scalp Micropigmentation?
Scalp Micropigmentation, also known as SMP, is a comprehensive and effective non-surgical treatment that uses natural pigments on the epidermal layer of the scalp to replicate the appearance of a naturally-shaved head. This quick, effective, and hassle-free solution to hair loss is a great alternative to hair extensions and hair transplants due to its superior technology and long-lasting results.
Much like cosmetic tattooing, the organic pigment is used to treat hairline recession and balding. The non-invasive treatment replicates the appearance of hair follicles to give clients a youthful look and help them regain their confidence. The treatment is suitable for both men and women and can treat any kind of hair loss.
At Delaware Scalp Micropigmentation, we have a team of trained experts who pick the right pigment based on your natural hair color for flawless results.
If you're in Philadelphia, head over to our clinic in Delaware today!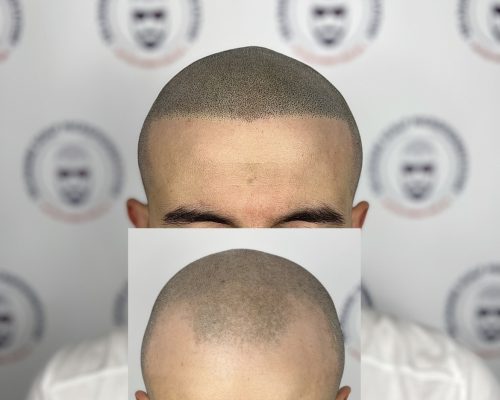 About Delaware Scalp Micropigmentation
At our clinic, we strive to give your clients a realistic and natural look with scalp micropigmentation. Our experts carefully choose the right shade of pigment and dilute it until it matches your natural hair and skin tone.
Whether you have thinning hair or a receding hairline, we have an experienced team of professionals who carry out the procedure on men and women to create the natural appearance of tiny hair follicles. We take great care to ensure that our pigment strokes are indistinguishable from your natural hair.
The treatment is a foremost choice for men and women due to its long-lasting results and non-invasive technique.
What To Expect?
Scalp micropigmentation is a suitable treatment for both men and women of all ethnicities.
Our clinic customizes the treatment based on the client's hair texture and head size. Our practitioners then determine the appropriate pigment for optimal results.
With our high-quality equipment, we make 2000 microdots per square inch on the epidermal layer of your scalp. Despite the needle, over 90 percent of the clients report minimal discomfort during the procedure—rather than a painful prick, the clients describe the feeling as 'poking your arm multiple times.'
Additionally, we customize the treatment plan based on each client's unique needs. Depending on your preference and the extent of your hair loss, we prescribe the number of sessions to give you the best possible results. Typically, most clients don't require more than three sessions.
If you're in Philadelphia, head over to our clinic in Delaware today!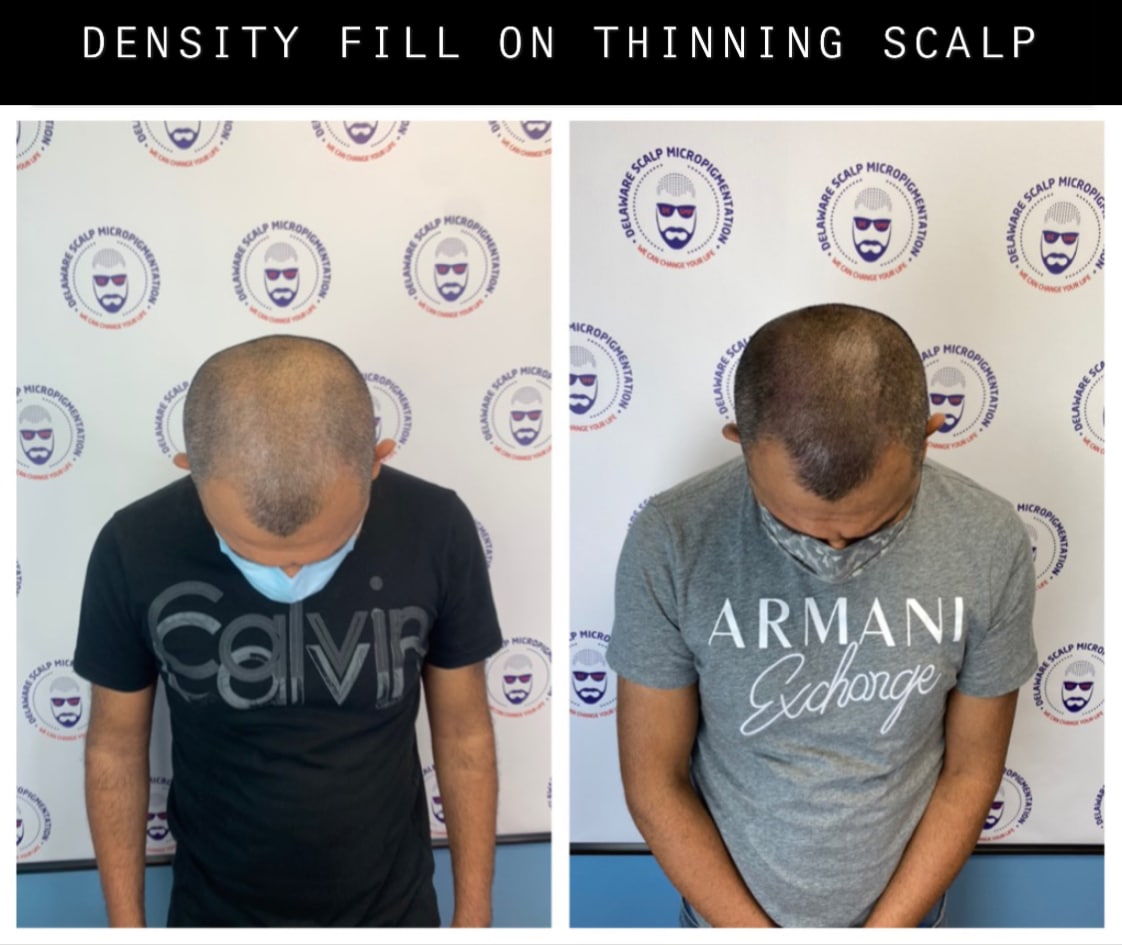 Book Your Consultation to get started
Scheduling a consultation to find out if you're a candidate for the treatment
Discussing your concerns and goals to devise a treatment plan

Session 1 (Takes 2 to 4 hours)
Introducing pigment to the first layer
Adding pigment to the natural hairline
Building the foundation for the next two sessions

Session 2 (Takes 1 to 2 hours)
Observing how the skin reacts to the pigment and your scalp's healing process
Adding density to the scalp
Building texture to give you the appearance of a shaved head

Session 3 (Takes 1 to 2 hours)
Finalizing the hairline
Adding details and more texture for a natural look
Guiding you on post-treatment care so you can enjoy optimal results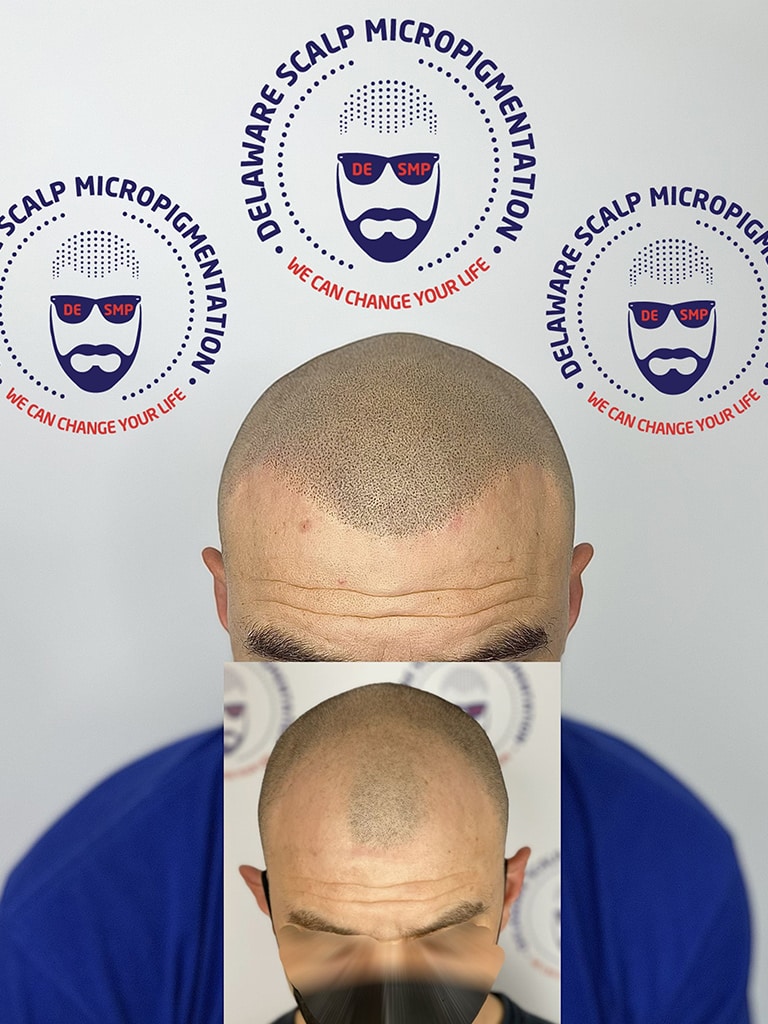 Scalp Micropigmentation (SMP) Repair
Thinking that scalp micropigmentation is a tattoo or a form […]
Subscribe To Our Newsletter!